The endless possibilities of digital wallpaper printing…
In every type of building, from schools and colleges to offices, retail spaces and leisure facilities, there are communal areas. These areas are sometimes nicely decorated. Other times, they are dull, dingy and uninspiring, with empty blank walls.
But, a blank wall doesn't have to be dull – it's actually a brilliant opportunity. This is because a blank wall = a blank canvas. It's a chance for your organisation to leave its mark.
Digital wallpaper instantly brightens up communal spaces. Most digitally-printed wallpaper is easily removed, meaning it's suitable for leased and temporary premises. It's also incredibly easy to create something eye-catching with the support of the right installer.
Here's how we make it simple for our customers…
Digital wallpaper printing – in 3 easy steps 
STEP 1: The design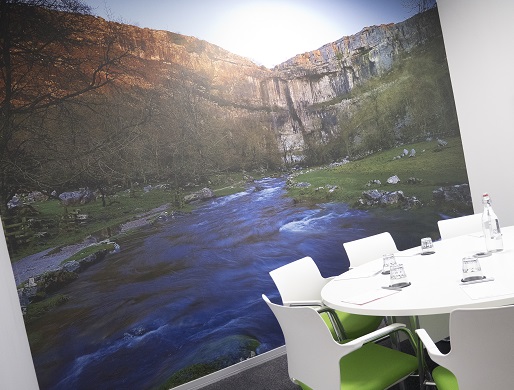 If your request is relatively straightforward, we can discuss your objectives with you over the phone. Your digital wallpaper design can be created from measurements provided by yourself.
If the project is a little more complex, or you'd like to discuss your ideas in person, we'll carry out a survey. During the survey, we will measure up, take photos and assess the type of surface the digital wallpaper will be applied to. You'll also be able to tell us exactly what you have in mind.
From these initial discussions, we will then produce designs and detailed visual mock-ups. You will have the chance to feedback and approve everything before it gets sent to print.
STEP 2: Print
When you're happy with the visuals, we print your digital wallpaper. Having large format printers on-site means we can print in large sections, limiting the number of sheets of material required to cover your wall. It also makes the printing process much faster, reducing lead times.
STEP 3: Installation
Following the print run, your digital wallpaper is prepared at our site before we arrive at your premises to install it. It's likely that some of the cutting and finishing will be completed during installation. This helps us achieve accurate seams and edges.
And that's it!
The installation shouldn't take more than a couple of hours and we'll check you're completely happy with your new digital wallpaper before we leave.
There's a whole world of possibilities when it comes to digital wallpaper printing. What style of design will you go for? Check out our blog '5 ways wall graphics will breathe new life into your workplace' for some inspiration.
Do you have any specific questions about digital wallpaper printing? You can get in touch on 0113 278 3133 or via sales@digitalplus.co.uk.