It's almost the start of a new year, which means new opportunities to make an impact at your business. Perhaps you're looking for a way to refresh your workplace in time for January?
Brightening up your office, shop, warehouse or facility can help you set a positive tone for the year ahead. However, much like New Year's resolutions, the more manageable changes are the easiest to achieve.
A large-scale refurbishment might not always be possible, but printed wall graphics are a fast, simple and effective way to transform your space.
Wall graphics are easy to implement and deliver real impact. Here are just some of the ways you can use them to brighten up your empty walls and improve your workplace: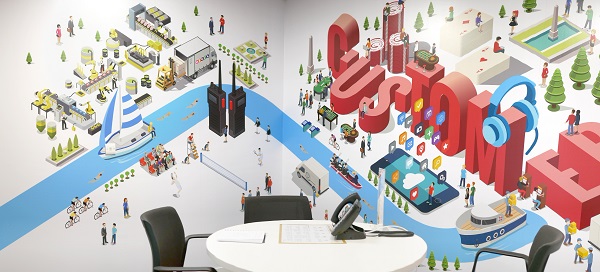 1. Add a little inspiration
As well as creating a pleasant backdrop, the right visual message can help to get us thinking, making wall graphics a fantastic addition to meeting and breakout areas.
Filling a blank wall with an eye-catching message sets the tone and adds a dash of inspiration to even the most plain of spaces. This is useful within internal meetings, but can also help to get the conversation going with external visitors too.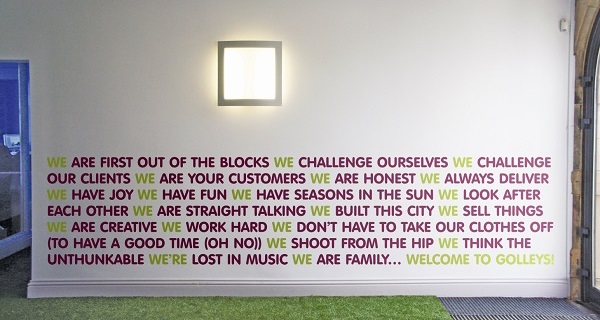 2. Share your company culture
Customising your space using wall graphics is the effective yet subtle way to show customers, visitors and new employees a little bit more about your company and its values.
Using words, phrases, images and illustrations, you can build up a visual representation of your company's culture and its achievements – for all to see. This not only leaves visitors with a good first impression, but helps to remind your employees why your business is such a great place to work.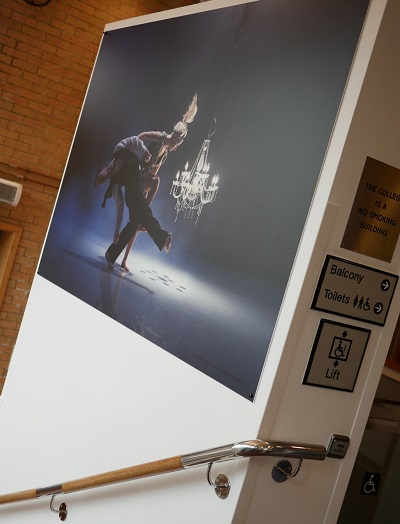 3. Celebrate achievements
Recognising achievement is one of the best ways to show your employees how much you value their hard work. It can also help people feel more engaged at work.
Wall graphics are a great way of celebrating collective team wins and create a permanent, positive reminder of your successes. After all, there's nothing more motivational than reflecting on the obstacles and milestones you've already overcome!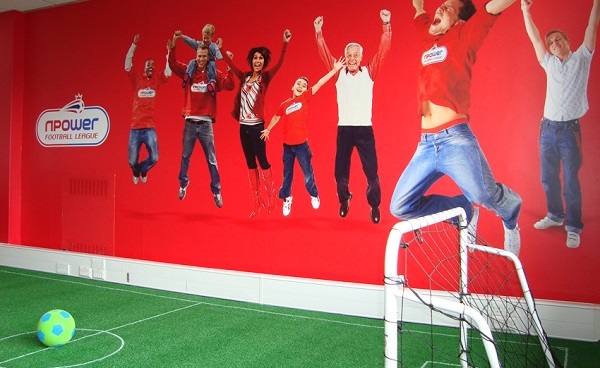 4. Help people feel more at home
Commercial property is rarely atmospheric and most of the time that's fine – it serves a purpose! However, work is where many of us spend most of our waking hours and it's better for our wellbeing if we're in surroundings that are comfortable and appealing.
Wall graphics are a simple way to personalise a space and can help people to connect with their surroundings. Used in shared areas, like entrances, staff rooms and breakout areas, decorative wall graphics can create a small home-from-home for people to work and relax.

5. Decorate a tired old space
When you're stuck with less than modern premises, wall graphics are an easy way to make them smarter, more professional and appealing. Many leased buildings limit the changes you can make, so vinyl wall decals are the perfect way to get around this.
A colourful, creative design will instantly brighten up dull and dingy corners and help you put your mark on an otherwise non-descript leased property.
Got a blank wall in your workplace? Talk to one of our experts and we'll help you plan wall graphics to liven up your space in time for 2018.
Want to hear more from the specialists here at Digital Plus? Sign up to our newsletter for regular updates from the team