Ever wondered what goes on behind the closed doors of a busy digital printing studio? Andrew shares a bit about his role as Studio Manager: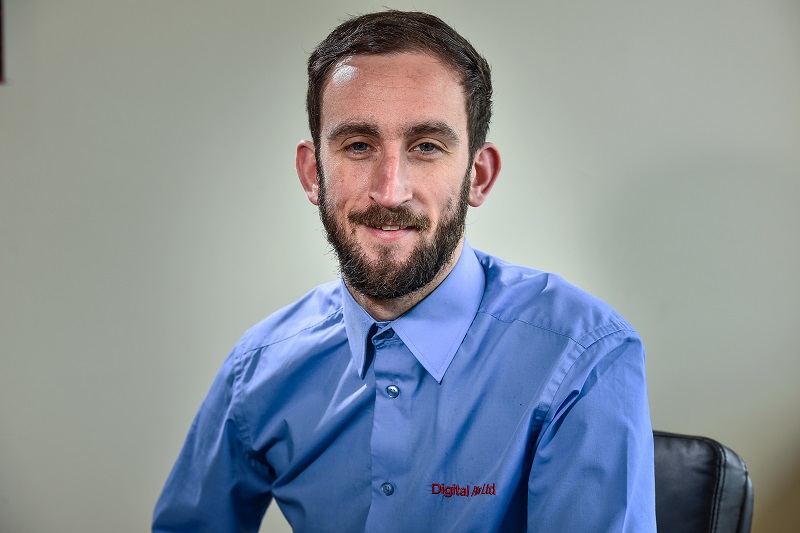 'In my role at Digital Plus as Studio Manager, I see all aspects of the business'
Alongside our Projects Director, John Webster, I manage the day-to-day running of client projects, from initial brief through to design, production and installation, so I see all aspects of the business.
We have a production meeting each morning with the studio team and account handlers to go through current work, plan deadlines and delivery, as well as discussing any potential problems.
I'm involved from the quoting stage, helping to source the best materials for each individual brief and arranging any necessary outsourced work, such as powder coated signage or modular systems.
'I'm very hands-on'
Once a project is in production, we make sure it's realised in the most economical way possible by keeping wastage to a minimum. Where required, I'll produce samples and share our proposed methods with the client.
Throughout the day, I'll monitor the work passing through the studio, prioritising jobs and making sure artwork is proofread and size checked before ripping the files over to the printers.
I'm very hands-on. In the past I've designed and built double sided light boxes, including wiring up the internal LED circuits. I've also designed and built full modular stands imitating a kitchen, bedroom and living room for different exhibitions.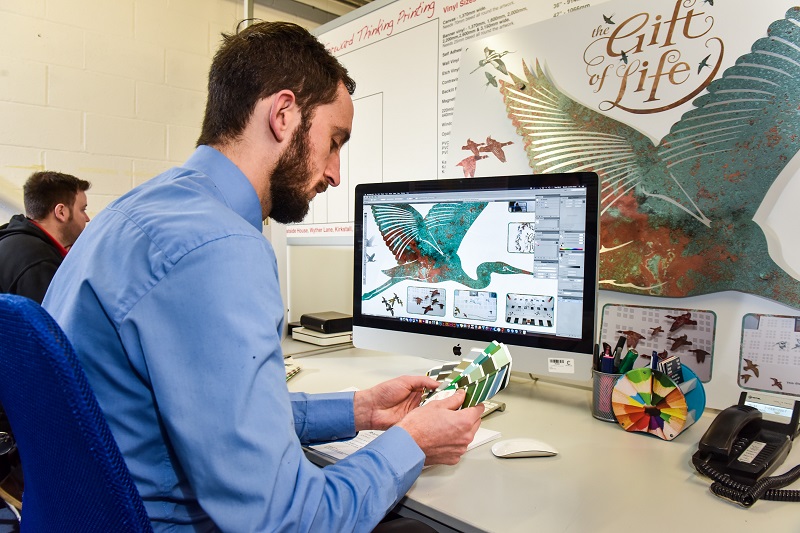 'I make sure work is produced to our very high standards'
I get involved in the quality control of all the projects, physically checking the work to make sure it has been produced to our very high standards. We print onto such a huge range of materials that it's important to know exactly how they should be treated and which materials work best in what scenarios.
I personally think reverse printing to polished edge acrylic is one of my favourite materials to work with. You can get exceptional results on a small and large scale and without doing any intricate finishing. This creates amazing, eye-catching results.
When I'm not on my trusty Mac, I'm the main operator of our newest bit of kit: the 3D printer. It's a relatively small machine, but we are currently exploring new ways of incorporating 3D printing into the large format printing that makes up most of our work.
'I am the first point of contact for our installs'
All of our installations have their own unique document for our guys to work from, including location pictures, artwork, production and fitting methods. This makes it as efficient as possible when they get to the site.
I am the first point of contact for our installs. So, if there's a problem, I need to be proactive and think on my feet to ensure it has minimal impact on the client.
'It was like going into the unknown'
My most challenging project to date would be one of our most recent projects for a major client. We applied cut vinyl to a huge aircraft hangar at Manchester Airport to create a stencil which the company logo could be painted from.
It was like going into the unknown from the start, as no one had first-hand experience of anything similar. The sheer size of the hanger made it a challenge from the start! It was 80m wide and over 20m high.
We worked out a formula to take into account the corrugated cladding of the hanger so that when it was applied to the grooves the logo didn't look squashed. The width of our vinyl and application tape meant we had to cut the logos out into manageable sections for ease of installation.
The production team cut, weeded and fixed application tape to 246 individual sections of vinyl to make up 2 large and 2 small logos, using approximately 500 linear metres of material.
Our install team then had the challenge of applying vinyl to the corrugated aircraft hangar, battling with difficult weather conditions and aircraft movement in and out of the hanger. We eventually got this done over a 3 week period and our client was really happy the end results.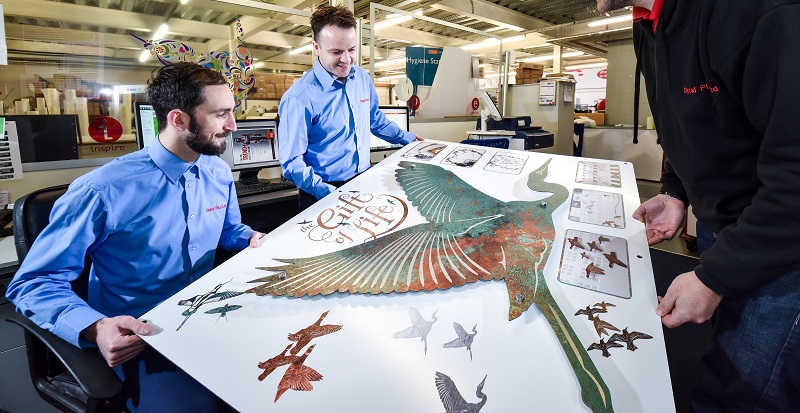 'Great people'
Every day is different as Studio Manager and that's one of the great things about my role at Digital Plus. We have some great people working here from top to bottom and it has a real family feel to it which makes it a great place to work.
In my spare time, I like to spend time with my family and friends and play football. I support my local home club of Bradford City.
Want to hear more from the specialists here at Digital Plus? Sign up to our newsletter for regular updates from the team.