The endless possibilities of custom school signs…
When we think about school signs, the entrance sign usually springs to mind – a smart, formal design in school branding. But, in reality, custom school signs come in every shape and size and go way beyond branding purposes.
Effective school signs can:
Keep sites safe, practical and easy to navigate
Provide an engaging, vibrant place to work and learn
Create a sense of belonging and pride
With budgets tight for schools and other educational facilities, maintaining a smart and well-presented learning environment can be tricky. Finding the budget for refurbishment work isn't always achievable. But that's where custom signs come in…
Brightening up tired, dull spaces
Signs and graphics are one cost-effective way schools, academies and colleges can keep up appearances. They also provide complete flexibility of design, meaning it's easy to create something bright and eye-catching that's unique to your organisation.
Because large format printed graphics come in all kinds of shapes, sizes and materials, it can be difficult to know where to start. Take a look at these three affordable ideas: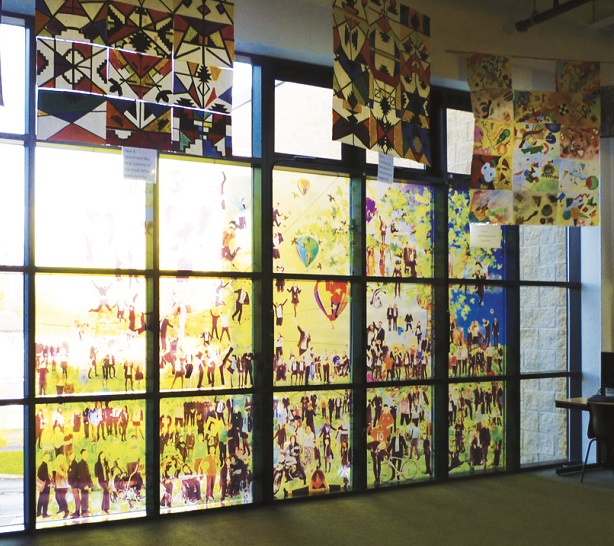 IDEA #1: Decorate
School signs aren't just practical. They can display patterns, designs and even custom artwork. Decorating communal areas with bright, engaging print such as wall graphics, is one way to help people take note of, and even feel proud, of where they work and learn. Wall and window vinyl designs are affordable and easy to install, making them the ideal choice for injecting a dash of character into corridors and classrooms.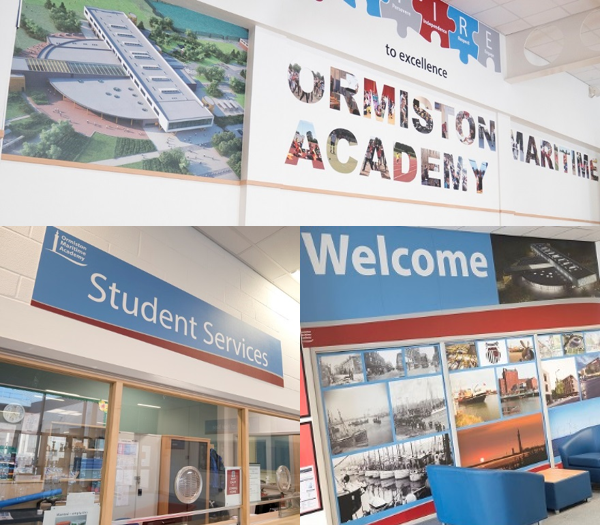 IDEA #2: Brand
Although there's room for fun and inspiring printed graphics in schools, there's also a need for professional branding. Having branded directional signage sets the right tone for visitors and pupils. Much like a uniform, a smartly-branded school or college site communicates a shared identity. Materials like acrylic and PVC are ideal for doorway and directional signage, as they're affordable and long-lasting.
Have you heard about Bubbleboard? It's the eco-friendly, recyclable print material that's just as durable as its non-recyclable alternatives.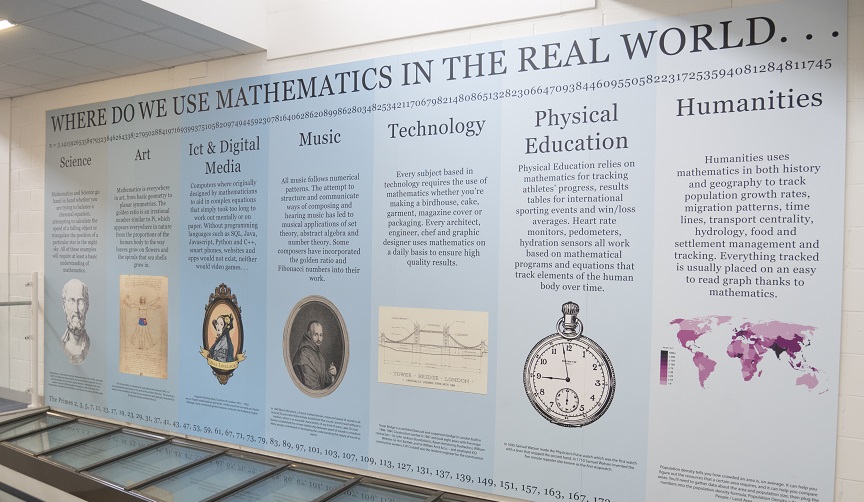 IDEA #3: Educate
School signs can also be useful teaching tools. This large wall display within a maths department at an academy communicates the uses of mathematics throughout history. It's a simple way of decorating a blank wall, which also shares an educational message. But your educational graphics don't need to be curriculum-based like this example. You could decide to tell visitors about your school or college's values or achievements, or commemorate the individuals who work and learn there. It's really up to you!
Whether you want to personalise your building or simply make sure people can find their way around, custom school signs are the way to do it. And the beauty of working with a digital printing specialist is that they will be able to recommend the simplest and most affordable ways to deliver your vision.
We hope this article has given you some good ideas to get started with. Do you have any specific questions about school signs? You can get in touch on 0113 278 3133 or via sales@digitalplus.co.uk.