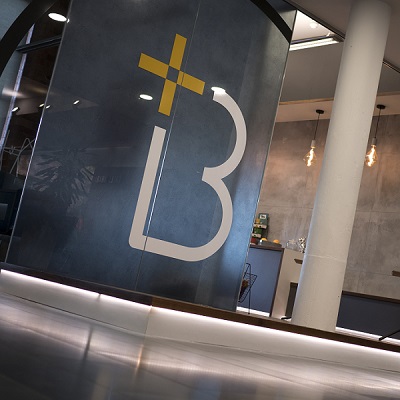 Window vinyl design ideas for your work or retail space
Window vinyl is affordable, customisable and simple to install. It's also easy to remove, making it ideal for personalising rented premises, such as retail and office spaces. For these reasons, printed window vinyl is commonly used to share messages throughout the commercial world.
Some of the main uses of window vinyl include:
Decorating windows and partitions.
Branding with graphics and logos.
Creating privacy behind glass panels.
Displaying directional and practical information.
Printed either in large panels or as cut lettering, window vinyl comes in literally any shape or size. And this makes it a fantastic tool for branding work or retail space.
There's no right or wrong when it comes to generating window vinyl design ideas. To help get you started, we've listed some typical ways our customers use window vinyl to brand and decorate their space:
Temporarily make a space your own
Just like wall graphics decorate blank space without doing permanent damage, window vinyl instantly places your brand identity where it will be seen by all. On windows, doors and glass partitions, vinyl is a subtle, yet noticeable way of sharing information.
Logos are a classic way of branding interior and exterior facing glass panels. But you could also use welcome messages, contact information or even testimonial quotes for a different approach.

Make a feature with a creative panel
The beauty of window vinyl compared to wall vinyl or graphics is that the backdrop is translucent. This means light cascades through and illuminates your design in full colour. With the right materials, it's possible to create an almost stained glass effect with your glass wall or window.
Adding a unique graphic pattern, design or piece of artwork to a glass panel instantly creates a focal point. And if you're looking for a novel way of decorating your building, what better way than with eye-catching, decorative glass?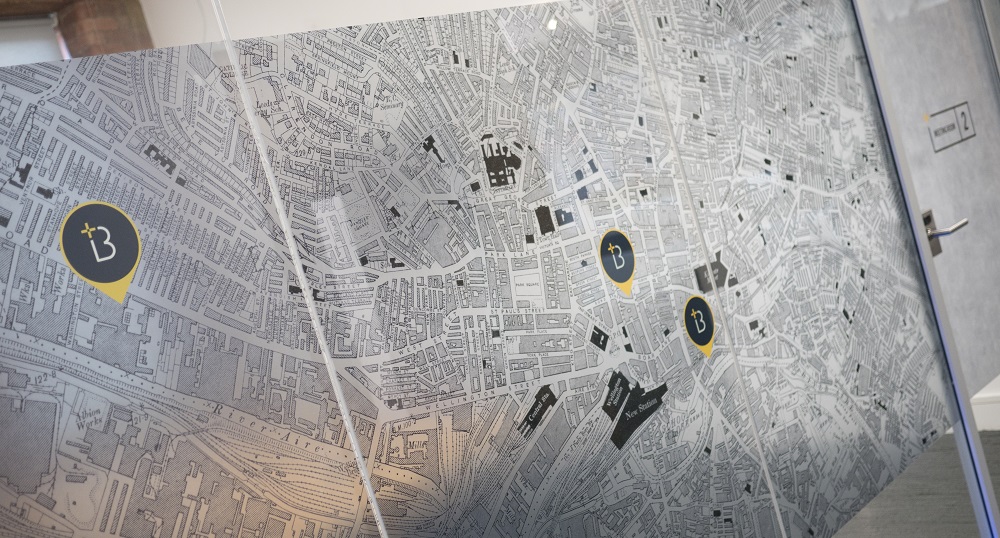 Represent your business' surroundings
Interior branding is a fine balance. Pasting your logo or company values on to every available surface is overkill. Sometimes it's much better to take more of a subtle approach.
Window graphics featuring maps and cityscapes are an effective way to celebrate your location or surroundings, without being overbearing.

Display brand colours, photos or company achievements
It's possible to create solid panels of colour and images using window graphics and vinyl. They're great for adding decoration to empty and shared spaces, such as corridors, meeting rooms and communal recreation rooms.
Block window vinyl panels have the added bonus of creating privacy without making rooms dark and dingy. Some clients decide they'd like a pattern to provide a layer or privacy across a glass wall, while others use photography or an arrangement of words. The choice is yours…
We hope this article has provided you with some useful window vinyl design inspiration to get you started. Do you have any questions you'd like to share with us? You can get in touch on 0113 278 3133 or via sales@digitalplus.co.uk.