Wall graphics are a quick and easy way to decorate blank space within buildings. Be it in an office, retail unit, school, college or local gym, there are hundreds of ways to brighten up dull corridors, shared areas and empty spaces.
People are happier and more productive in pleasant surroundings. A study by the University of Texas found that bland grey or beige offices made people feel sad and even depressed. Adding colour in the form of branding, lettering and graphic displays is one easy way to counter this.
Vinyl lettering and printed words are a brilliant way to weave colour into your space. They allow you to create an eye-catching display but also share a personalised message. This message could be funny, inspiring or motivational. Either way, it will help to enhance the surroundings.
Take a look at these examples, which illustrate what we mean. They're wall graphic displays we've created for businesses and organisations around the UK: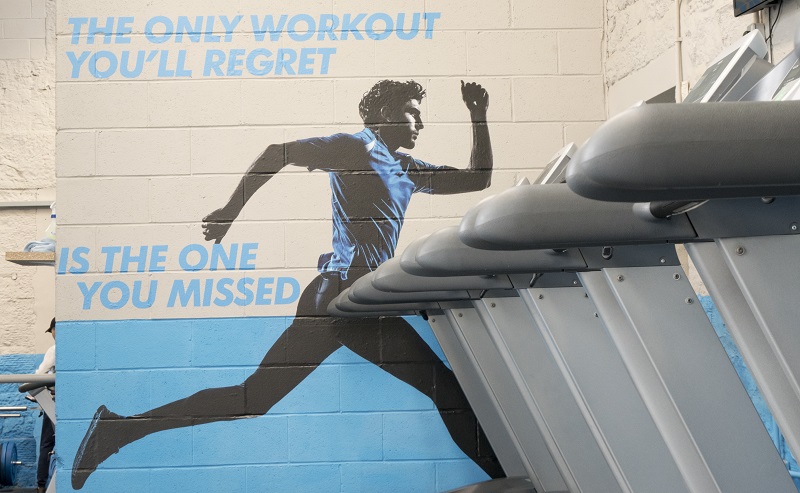 EXAMPLE 1: A quick pep talk from the walls of this gym
You might not always have a personal trainer to push you on during your workout, but at Club Energy Gym you can look above your head to feel their presence. They enlisted our help to print a series of quotes and messages around the gym walls. These graphics decorate the brick walls and provide a much-needed reminder of the value of feeling the burn and powering on through!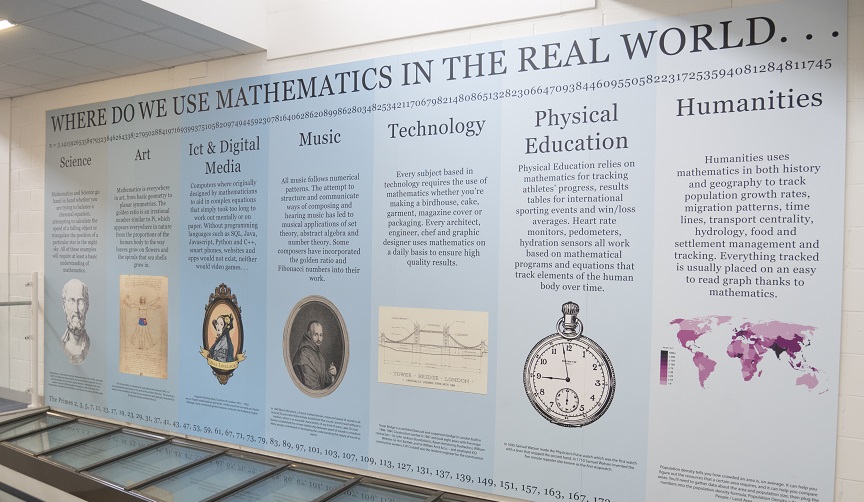 EXAMPLE 2: A dash of inspiration for this school maths department
While you were at school, how many times did you hear somebody say 'Miss, when am I going to use this equation in real life?'
Well, the maths teachers at Ormiston Maritime Academy now have an answer. They can simply tell their pupils to read about the different ways maths is used around the world, right outside the classroom door. We created this floor to ceiling wall graphic as a part of a school-wide fit out of signs and graphics (you can read about the full project here). The educational message is a great reminder to teachers and pupils of the power of learning.


EXAMPLE 3: Little pick-me-ups at this office space
This brand new office building wanted to decorate some of the walls within their communal meeting areas and recreation rooms. The client selected a range of motivational quotes and messages to scatter around the rooms in noticeable places.
They used colours, fonts and contrasting backdrops to make the words pop. And whether you view the messages as thought-provoking or a bit of fun, they definitely succeed in adding a splash of colour. We printed and installed this vinyl wall lettering as a part of a wider installation (see the full space here).

EXAMPLE 4: A gentle reminder in a customer call centre
When we're caught up in the daily hustle and bustle of our jobs, it can be easy to forgot the wider purpose of the work that's being done. That's why many large businesses decide to put branded messages on their office walls.
This message sits on the wall next to the customer care team at a call centre. It provides a visible reminder that the team is there to help customers feel at ease and reassure them. The message is printed in company colours for all to see.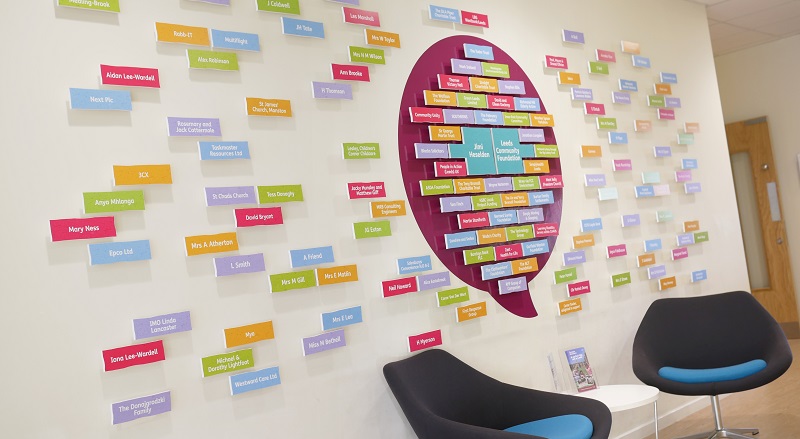 EXAMPLE 5: The commemoration of hard work for a good cause
It's easier to feel positive for the future when we can recognise the hard work that's already been achieved in the past. And that's exactly what this local Leeds charity, Mencap, wanted to do within their centre's reception area.
We helped them create a commemorative wall featuring the names of individuals who've supported their charity over the years. Not only is this a well-deserved celebration of their donors, but it's also a positive reminder of what can be achieved with the support of a community.
We hope these ideas have provided a useful starting point. There are so many options for personalising your space with wall graphics, deciding which option is best for you can be the tricky part.
The best way to discover what might work is simply to ask. Involving your employees, visitors, students or customers in the design process is one way to develop a design people will appreciate and enjoy. Alternatively, talking to a digital printers about what's achievable can also help develop your ideas.
We have decades of experience in helping people communicate their messages visually, so why not tap into our expertise? If you'd like to discuss your ideas or get a quote, you can get in touch via sale@digitalplus.co.uk or call us on 0113 278 3133.