Last month we visited Berlin to attend our sixth annual FESPA event. FESPA is the global federation of screen printing, digital printing and textile printing. The awards celebrate the best in printing innovation and bring together specialists from across Europe.
For a glimpse of some of the technologies on offer, watch this short promotional clip to see them in action;
FESPA Highlights: review some of the highlights from #FESPA Global Print Expo 2018, held last week in Berlin pic.twitter.com/FX7U9HAUA7

— FESPA (@FESPA) May 24, 2018
We've previously won bronze, silver and gold awards, and were delighted to walk away with another silver at this year's ceremony.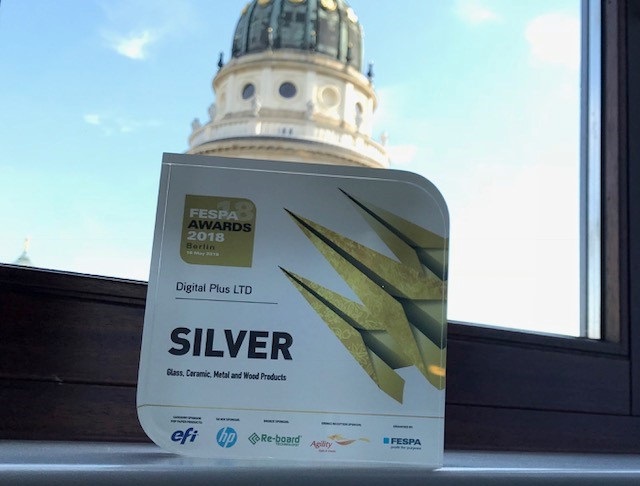 The winning project was the latest in a series titled 'The Gift of Life' created for our client, the Hospital Art Studio. The installation was at the Royal Bournemouth Hospital and has been created in celebration of organ donation.
(You can read more about the project in our blog 'Commemorating the Gift of Life with Hospital Art Studio')
We picked up silver within the 'glass, ceramic, metal and wood' category, for printing our 100 butterflies on cut aluminium. The judges were impressed with the accuracy in which we'd recreated 100 true-to-life butterflies, colour matched down to the finest detail.
Aside from the recognition we received, the event was a fantastic chance to catch up with other printers and see what techniques they'd been working on. There were some exciting entries in the 'decals and printed labels' category, including the revamp of a corrugated office block in Qatar.
We couldn't help but be reminded of the mammoth task we had printing for the corrugated exterior of a large aircraft hangar at Manchester Airport recently. We commend the team behind it for realising such a smart looking design on a very tricky surface!
The FESPA awards are always one of the highlights of the year and a great opportunity for the whole team at Digital Plus to recognise the great work we do for our clients. We're looking forward to next year's awards and are already anticipating what new and exciting work we might have to share.
Got an upcoming project that needs added impact? Get in touch with our team today and we'll help you find your inspiration.