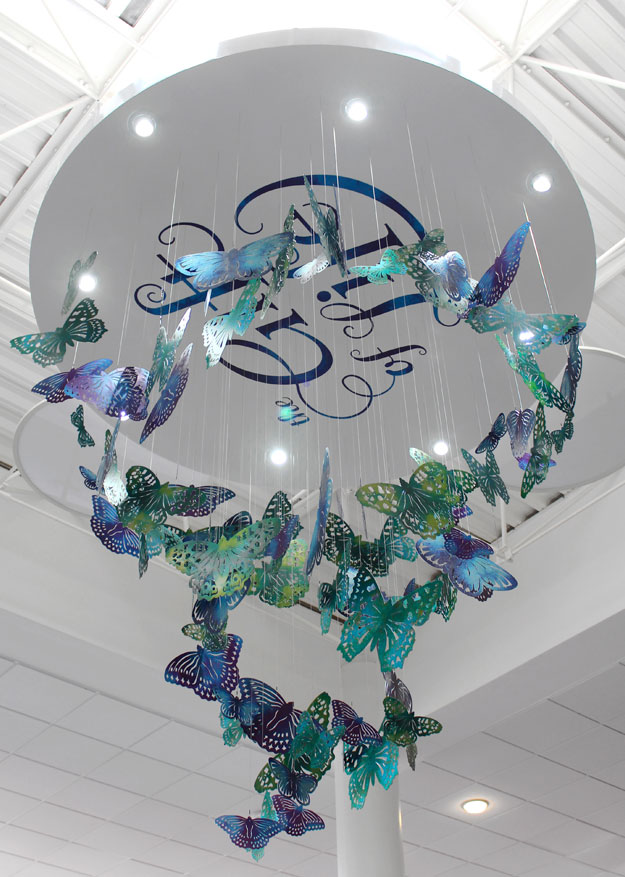 Celebrating the lives of the organ donors and their families, this piece at the Royal Bournemouth hospital is one of a series of beautiful memorials designed by Hospital Art Studio, titled the Gift of Life.
So far, we've helped the Hospital Art Studio team create touching displays at 6 hospitals across the UK, with our printed birds for Medway Hospital winning gold at this year's FESPA awards.
The latest installation is called 'A kaleidoscope of butterflies' and features an array of colourful butterflies spiralling up towards the light above. The display guides the viewers' eye to the central message of the Gift of Life on the ceiling.
We helped Hospital Art Studio to choose exactly the right materials for the 100 individually crafted butterflies. Four different species were chosen to replicate – Speckled Wood, Small Tortoiseshell, Adonis Blue and Silver Washed Fritillary – with two different sizes of each type.
Using laser cut 1.2mm thick aluminium each of the butterflies was individually coated in shimmering colours to both sides and with three coats of clear gloss lacquer to give them an iridescent finish which creates the impression of fluttering in the light.
Each project that we complete with Hospital Art Studio is special not only because of the amazing results, but because of the value it holds for the people close to those it commemorates.
"Digital Plus are a perfect fit for Hospital Art Studio and always push the boundaries to create very special results. With each success, we are pushing each other to do something out of the ordinary and their brilliant team are always up for the challenge! That trust in each other means that together we have been creating multi award-winning projects on a world scale. Not bad for some Yorkshire Lads and Lasses!" 
Karen & Tony van de Bospoort, Hospital Art Studio.
(Pssst! We won Silver for this project at 2018's annual FESPA awards. FESPA is the Federation of European Screen Printers Associations.)
Got an upcoming project that needs added impact? Get in touch with our team today and we'll help you find your inspiration.