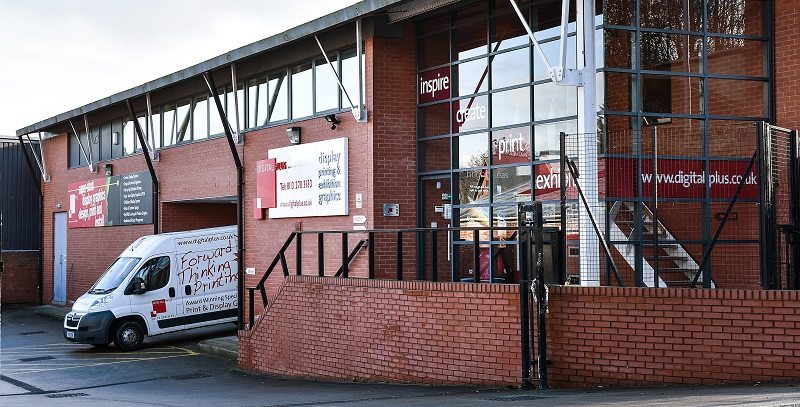 In an industry that is constantly evolving, staying up-to-date with the latest printing technology is incredibly important.
We're really proud of our Leeds printing facility, as it enables us to offer our customers a comprehensive range of printed products and materials. We can print in full colour on to more than 50 different materials and provide an extensive range of options to suit every new project we take on.
Our Kirkstall based studio has 24 team members, including a creative team, who work alongside our clients to design and prepare artwork for production. Then there are our machines – our equipment helps us to produce award-winning printed materials (they also happen to look pretty impressive too!)
We have three flatbed Oce and Agfa printer machines with roll-to-roll capabilities that print onto 3×2 metre flat sheets of materials, ranging from PVC and acrylics to card and aluminium composite materials.
We also have two dedicated roll feed Agfa and Roland printing machines that are capable of printing up to 3 metres wide on to self-adhesive vinyl, banner and cloth materials.
After printing, all of our designs need to be cut to size and prepared for installation. To do this, we have two 1600mm wide mounting and laminating machines, a 3×2 metre Zund cutting machine and a vinyl plotter machine for producing cut vinyl lettering. Want to see some of them in action? Watch the video:
It's so important to use the right tools for the job, as not finishing our work professionally ruins the overall impact. This is exactly why we've invested in our machines.
They're impressive beasts and the team enjoy seeing what they can achieve. The largest print run we've produced so far spanned 420 metre squared of internal wall coverings for Pudsey Grangefield School in Leeds. It took over 10 hours to produce, but was well worth the wait.
The best thing about our Leeds printing facility is that it enables us to take a joined-up approach to each and every one of our client's projects. From the first ideas, right through to preparing for installation, everything is done on-site and collaboratively, minimising delays and ensuring the highest quality end-product every time.
Got a message you want to get out there? Get in touch with our team today and we'll help make sure you're heard, loud and clear.