Thinking outside the box for truly creative office murals
If you've ever been tasked with producing an office mural or wall display for your business, you may have found it trickier than you first imagined.
Maybe it started with someone saying "Just put something bright and cheerful on that empty wall!" And at first, you thought, "Easy – I can do this. This is a fun idea."
But then you started looking at ideas and doing some research and there were so many different types of office murals. From fun, creative office murals and beautiful works of art to bland and truly terrible office murals. And that was before you even tried to get buy-in from the rest of the team…
How do you get everyone to agree on a design? Can you make it look great and still mean something to the rest of the business? Will everyone get bored of it?
Many businesses know exactly what they want their wall graphics to say and it's an easy decision. But, others struggle and don't have one set idea for what they'd like to display. In these cases, it helps to think outside the box and go less permanent.
It's possible to create interactive displays that can be altered and added to. You could create an abstract visual background and include boards where your team add images, text, figures, drawings or doodles. You could even make it magnetic so it doubles up as a notice board.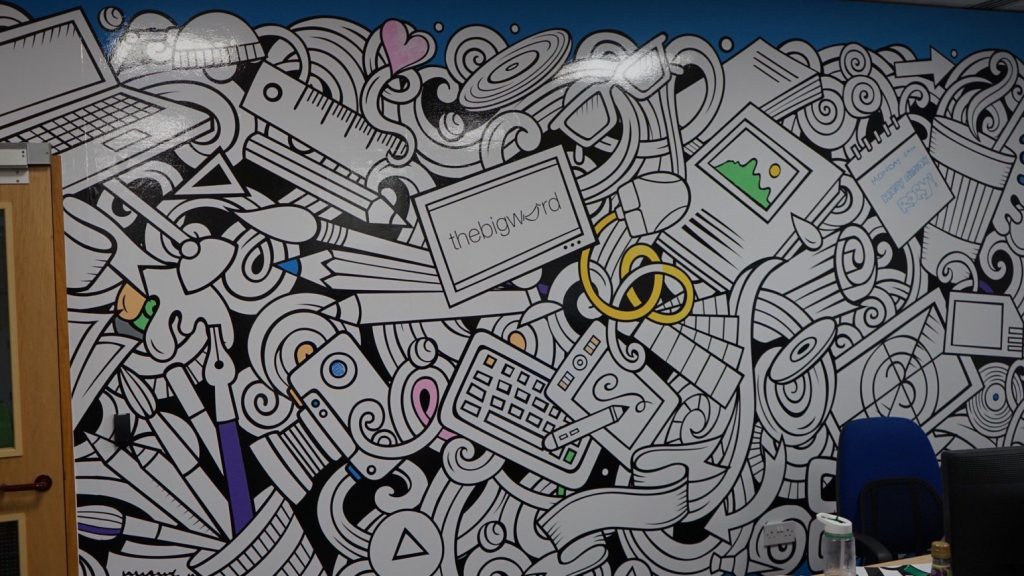 Take a look at this example…
The Big Word provides translation and interpreting services. They bring people together by breaking down language barriers and helping them communicate ideas. It seemed only fitting that their office wall mural should reflect this approach.
They came up with the idea of having a large black and white wall graphic printed on dry wipe material. The design could be coloured in, drawn and written on top of by the whole team, enabling everyone to share their contribution and have their say.
The mural has become a team-building exercise
We installed the full-size mural in their main office. The black and white cartoon-style graphic looks great as a standalone feature, particularly against the blue of their branding behind. And it can be transformed and changed using coloured pens!
Here's an action shot of the team getting stuck into colouring in the mural one afternoon during summer. Because the graphics can be cleared and wiped down, they'll be able to have fun with it, sharing messages and getting creative whenever they feel like it. It's a clever idea that everyone can enjoy.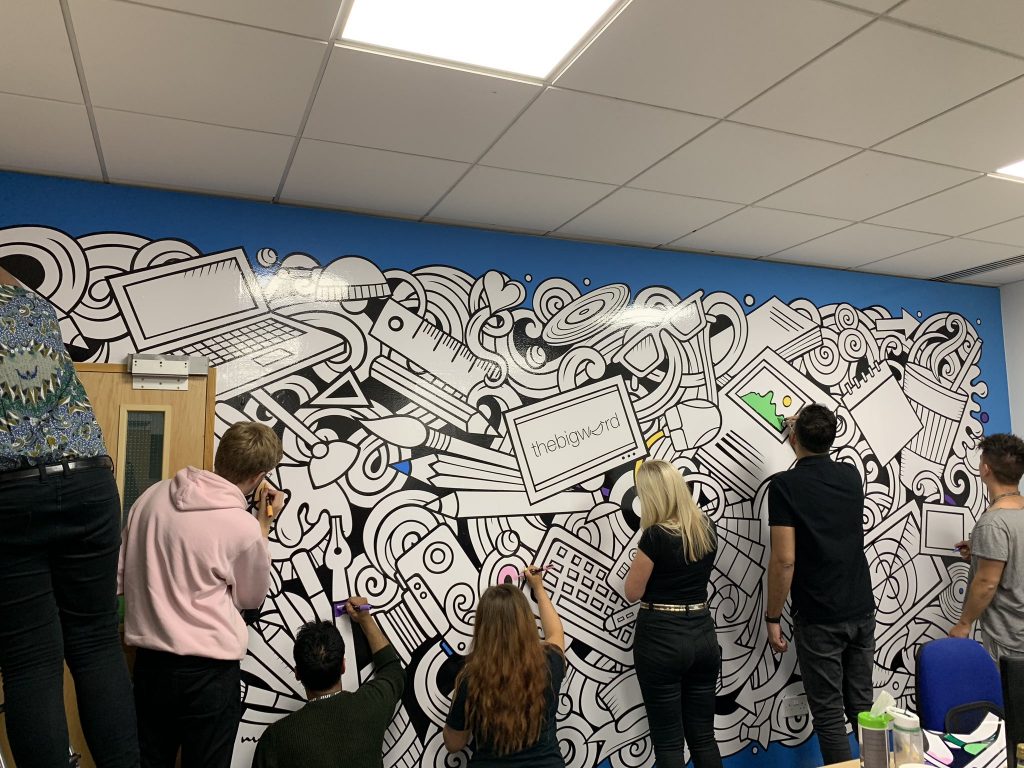 Do you have an idea for creative office mural, or maybe you'd like some more inspiration? Get in touch on 0113 278 3133 or via sales@digitalplus.co.uk.