Have you visited the Tetley Leeds? 
The Tetley Leeds building is a local success story. It was built in the 1930s and was previously the home of the Tetley Brewery headquarters before being closed in 2011.
In 2013, the building was given a new lease of life. In a project supported by the new owners, Carlsberg, and organisations including Leeds City Council and the Arts Council, the site was transformed into a centre for contemporary arts.
The Tetley building is now open to the public and houses gallery, studio and office space, alongside event rooms and a bar and kitchen. The centre hosts a range of events, from exhibitions and talks to conferences and weddings. In less than a decade, it's become a part of the cultural fabric of Leeds.
From its opening, the Tetley has worked hard to reach a wide audience within the local area and beyond. The centre is now visited by 120,000 people each year.
View this post on Instagram
Pulling in the crowds with clever branding
The Tetley building is unmistakable as a landmark, but you might not necessarily guess it's an arts centre from the outside. The centre uses eye-catching branding and signposting to tell visitors and passers-by about everything it has to offer.
We recently produced this bright printed graphic for a disused gateway. The building is surrounded by a large, walled car park, meaning it's only accessible from a few main entrances.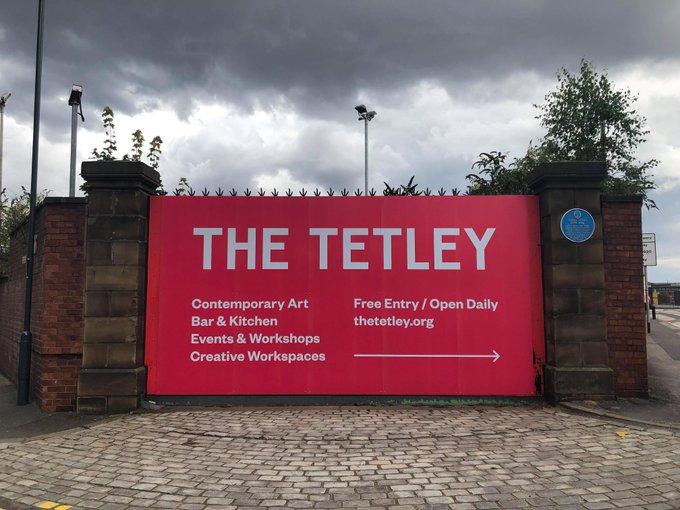 This old gate no longer served a purpose and needed securely blocking up. Instead of leaving it vacant, the Tetley wanted to use it to display a large graphic. We suggested printing direct to aluminium panels, then drilling them into place.
This secured the gateway and provided a billboard-sized area to showcase their branding. The bright red design brightens up the otherwise dull space and tells people exactly which way to go to reach the gallery. It's a really simple, yet practical, piece of visual communication.
Do you have any more questions about large format printing? You can get in touch on 0113 278 3133 or via sales@digitalplus.co.uk.