How to create show-stopping exhibition graphics for your next event
Exhibitions and trade shows are no small undertaking. They require time, planning and financial investment. And if you're attending one anytime soon, you'll need to think about how you're going to communicate who you are and what you do to visitors.
You may have the best products/services in the room, but if you don't have a great visual backdrop, you may struggle to capture the attention of passing footfall.
The answer? To create bright and engaging exhibition graphics that turn people's heads and immediately tell them what you're all about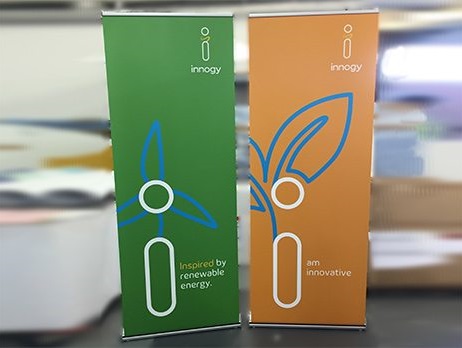 Exhibition graphics don't have to be hugely expensive. And there are many ways you can use them to make an impact. From bespoke modular exhibition stands right through to pull up banners and posters, it's possible to create a show-stopping design with budgets of all sizes.
Here's a quick list of the different types of exhibition graphics we're asked to produce:
Exhibition stand banners
Pop-up displays
Modular exhibition stands
Branding and collateral print
Exhibition graphic panels
We regularly help businesses prepare for their upcoming events by providing them with both exhibition graphics and printed collateral. And we make it really easy for them to communicate their messages, thanks to our three-step process:
Exhibition graphics printing – in three easy steps 
STEP 1: Design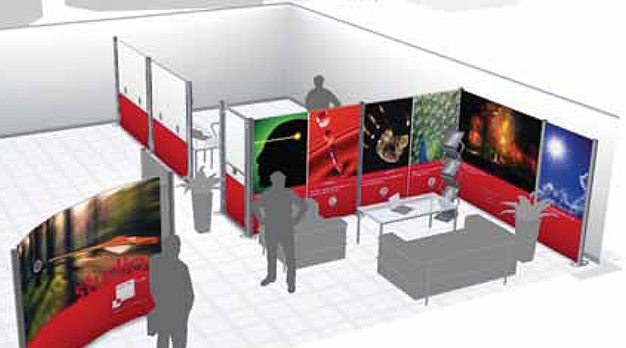 The first stage involves understanding your objectives for the event. We'll ask you about your audience and what you're hoping to accomplish while you're at your event. If you have some designs in mind already, we'll talk to you about how best to print and display them.
If you want to produce totally new exhibition graphics, our design team will work alongside you to create something unique. We'll talk to you about your ideas and provide a steer on how to communicate all the information you need to.
Following the initial designs, 3D visual mocks ups are provided, which enable you to see exactly what your stand space will look like. Once you're happy with these, we'll move on to the print and production phase.
STEP 2: Print
Working to your deadlines, we'll schedule in the print. You will have received an explanation of the print materials that are going to be used when we provided your quote. We print on to more than 50 different substrates. The chosen materials depend on a range of factors, including the cost, aim and location of the finished graphics.
It may be that you're planning to re-use your exhibition graphics at other events. If this is the case, we can recommend durable or reinforced print materials that can be packed away and used again in the future. If you want to dispose of your exhibition graphics straight after the event, then you may want to consider using recyclable print materials.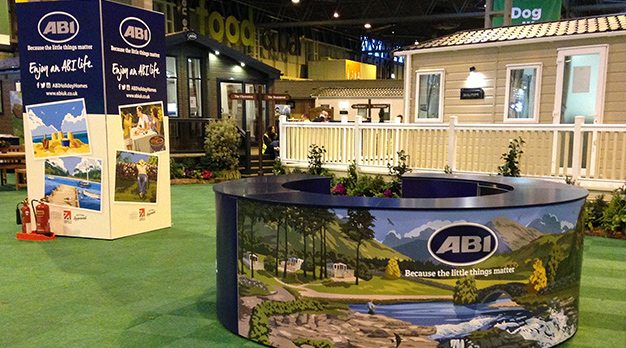 STEP 3: Installation
Once they've been printed, your exhibition graphics will be packed away ready for dispatch. If required, our team can install your graphics as well as delivering them. This is really handy if you've ordered large graphics or a full stand design, as us taking care of the install can save you time and hassle.
The method of delivery and/or installation is all down to you – we work around how you like to work. For instance, our client Zest Mixology, regularly needs branded bar panels for their pop-up bars. They drop off the bar panels, we install the fresh graphics and they go off to their next location. It's a streamlined process that makes their event logistics that bit simpler at a time when they have so many other factors to think about.
Do you have any questions about exhibition graphics in general or our expertise? Would you like to request a quote for your next exhibition or trade show? You can get in touch on 0113 278 3133 or via sales@digitalplus.co.uk.