Ever wondered what goes into large format printing? Production Manager, Gareth Hartley, shares his experiences:
'I wanted to challenge myself in a role producing work to a very high-standard'
I started at Digital Plus at the end of October 2015, having been at my previous employment in a similar role for over 13 years. I was seeking a fresh start and wanted to challenge myself in a managerial role working for a highly professional company.
I wanted to work with a digital printing company who produced exciting work and put quality at the heart of everything they achieved so, for me, Digital Plus was the perfect fit!
'Quality control is one of the most important aspects of production'
In my role as Production Manager, I oversee all work that goes through the production process, from when an order is placed to when it's despatched.
I spend my time making sure every deadline agreed with our clients is achieved. This involves maintaining stock levels so we have the right materials for each job and making sure every machine is maintained to a high standard.
Quality control is one of the most important aspects of my role and I oversee procedures to ensure they are followed correctly throughout the production process, on a daily basis. Part of this is encouraging a positive team spirit but still being able to enforce discipline where necessary. It's a fine balance but I feel that if you get it right then the rest becomes a little easier!
'We follow strict procedures at every stage production'
We always leave our clients satisfied with the end result of their projects and I believe this is as a result of the strict procedures we follow throughout the production process.
Every procedure we follow has been designed (and refined) around creating the best possible outcome for the client; be that by saving time and materials or delivering the highest quality finish.
We recently invested in two UV printers – an Agfa roll to roll and flatbed – which are backed up with two Oce UV flatbed printers. Not only do these machines help us do our work effectively, but they produce the outstanding quality results that our clients look for and value.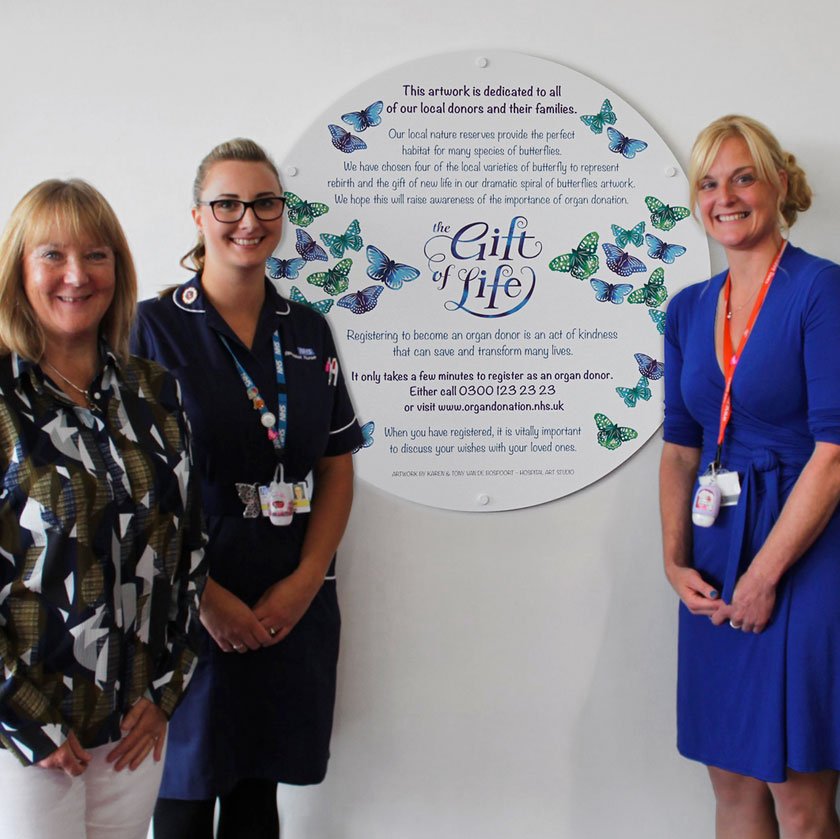 'It was a challenging project for a worthy cause'
I would say that a highlight has been one of our most recent "The Gift of Life" projects which we installed at the Royal Bournemouth Hospital last September. The installation commemorates organ donation, so is a fantastic cause as well as being a challenging project from a production perspective.
In total, 100 butterflies were laser cut and printed both sides, before being individually hung in a climbing spiral. The finished structure was 1990mm wide and 2500mm long. The 1.2mm thick aluminium was coated in iridescent colour to give the material a shimmering effect, as well as strength and longevity in a hospital environment.
(Pssst! We've entered the FESPA awards for this project. Please take a second to check it out and vote!)
'My greatest satisfaction at work is doing the best possible job for clients'
I've used various types of materials and adopted many different techniques over the years. But, honestly, the greatest satisfaction I get from my job is receiving positive feedback from our clients and ensuring they are pleased each and every time.
Want to hear more from the specialists here at Digital Plus? Sign up to our newsletter for regular updates from the team.