Printed and installed, full colour or etched Window Graphics are another bespoke service offered by Digital Plus. Let us help you make the most of this valuable space, which is viewed from both the inside and outside. It's a great place to show your message.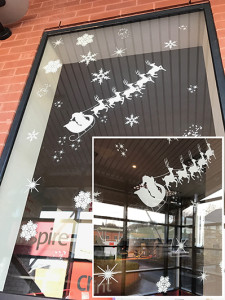 * Special offer while stock lasts *
Create your very own magical night scene installed in seconds and easily removed.
So why not decorate your windows with a flying santa mixed with both twinkling stars and Snowflakes using a set of window clings.
£25 per set – with coverage 0.75sqm – Adjustable to fit.
Let it snow, let it snow, yo,ho, ho.
VAT & Carriage extra.
Need a longer term graphics project ? then you may need our Project Plus offering.
Get in touch and find out how we can help. >>