These branded Social Distancing Safety Screens from Digital Plus are a fully printed sneeze guard, designed and produced by the team at Digital Plus after many weeks of research and prototype production. Our safety screens give an elegant and sophisticated look to your workplace environment, whilst still giving your staff and customers the protection required. Ready for use on your desk or floor should you choose the free standing version.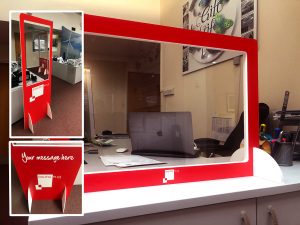 We wanted to create something that did not have the need to be fastened down, was lightweight and easy to move around a variety of environments as the needs changed, was cost effective (as we know this won't have been budgeted for!) and fully branded so that important messages or branding could be included, giving you the added benefit of keeping your brand in plain sight while creating a safer working environment. Having already supplied a variety of businesses with the STERIGUARD from schools to retailers, we are happy to finally go to market with this much talked about product.
Although we are offering 2 standard models (Standard sizes off the shelf: 800x600mm & 790w x1900mm) we can design these to a bespoke size of your choosing and we are happy to talk to you about any other requirements that you may have. Starting from as little as £52 we believe these can be an important addition to your re-opening strategy in the coming weeks.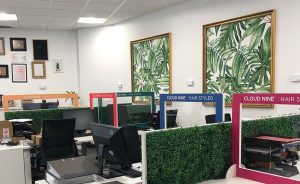 Don't have a ready made branded design. Our social distancing safety screens come in a variety of colours for you to choose from, so why not add a burst of colour and really brighten up your office space.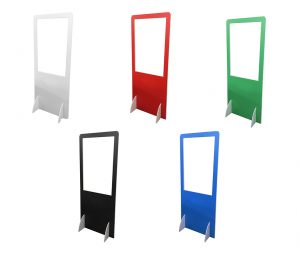 Looking for more Covid 19 Safety  Products, take a look here
Our team as always is here to help, for more information or a quote please contact us on 0113 27823133 or get in touch