Frequently associated with multinational companies with sites all over the world, office branding is an understated yet highly-impactful communications powerhouse.
And it's not just reserved for big 'blue-sky thinking' businesses with huge budgets either.
Companies of all sizes can benefit from branding their working environments, whether it's open-plan offices, factory floors, production sites, warehouse space, toilet and reception areas – there's no limit to where office branding can be applied.
We've listed three reasons why all businesses should bother with office branding…
REASON 1: Reinforce your identity
Kitting out your office so that it reflects your brand look and feel is a really powerful way to show your staff, customers and visitors who you are and what you're about.
You don't have to paint every single square metre in your brand colours either, subtle enhancements, such as having your logo in your reception area or decorating certain rooms, walls or having your office furniture in your company's colours, can all make a real impact.
Choosing to make sure your vision and values are visible for all to see, for instance, in communal spaces, such as breakout or kitchen areas, will remind employees of your company focus and help give them a sense of belonging. It'll also provide guests with more of an insight into the type of organisation you are.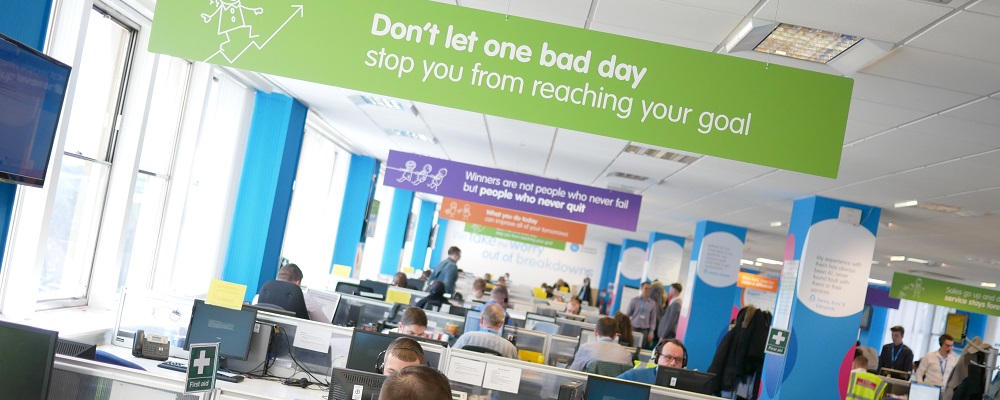 REASON 2: Achieve that professional edge
Injecting office branding into your working areas immediately ties all of your space together and instantly makes it look really professional.
As we've just mentioned in the point above, office branding is a highly effective way of displaying your company's values and beliefs. And you don't have to make big, bold changes – subtle injections of your branding can be just as powerful as transforming your whole working environment.
Here are just some of the little things you can do that may be small, but are still incredibly powerful:
Decorate your walls with custom-branded vinyl wall and window stickers – they're a great way to help make a great first impression on visitors.
Turn some of your testimonials into pull out quotes for your walls – a highly effective way of saying how great you are without blowing your own trumpet too much!
Use ceiling signage to communicate your current vision – this is a great way to reinforce your objectives to staff, without making them feel like they're being preached at. This idea works particularly well in workplaces where space is tight…
Install an inspiring image across the entire length of your boardroom – make sure you choose something that's relevant to your business. In doing so, you'll instantly lift the room and make it more engaging.
Use wall graphics and displays to showcase your achievements – what better way to make your workforce feel valued than by showing off their achievements! It's also a simple, yet powerful way of demonstrating to your clients and visitors just how great your employees are (and how much you recognise their efforts).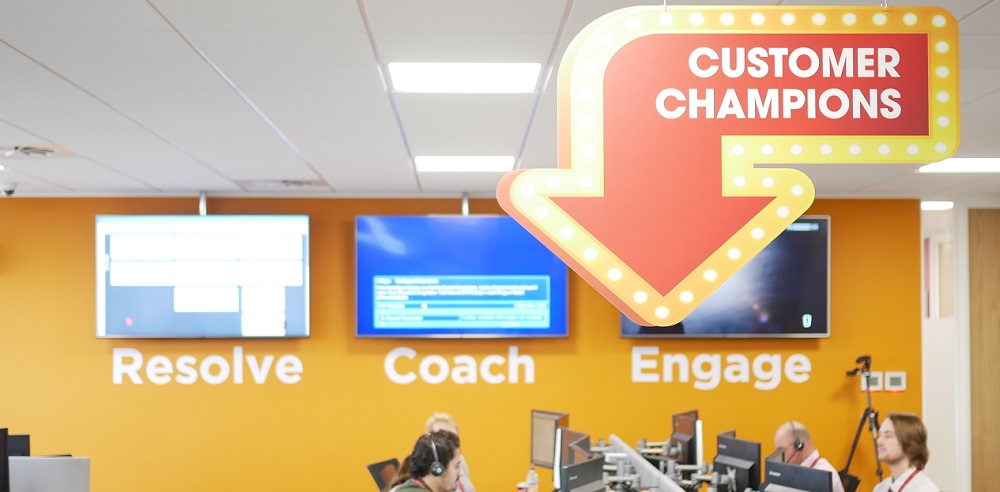 REASON 3: Boost productivity
Believe it or not, working in a unique and dynamic space can help boost productivity levels no end. Just as a well-designed office can increase staff outputs, so too can the right good quality branding.
In fact, it's a well-known fact that good office branding can boost both staff productivity and morale, with employees working harder for brands that share the same values as them. It's also widely-reported that many companies these days are increasingly creating innovative workspaces, as they recognise it goes hand-in-hand with their employees' happiness levels.
Looking out for the welfare of your staff is becoming increasingly recognised by companies. Good corporate design and branding is one of the ways this can easily be achieved which, in turn, can lead to good levels of employee retention, increased employee productivity and increase the amount of goodwill that your staff feel towards your business.
So, we've just run through three reasons why all businesses of all sizes and across all sectors should bother with branding. This list is, of course, only a small snapshot of why companies should invest in office branding. Where possible, try and get your staff involved in helping brand your working environment so that it truly reflects your company and everybody who's in it and, remember, sometimes less is more.
For more office branding advice or to discuss your requirements with us, contact us on 0113 278 3133 or sales@digitalplus.co.uk
 Want to hear more from the specialists here at Digital Plus? Sign up to our newsletter for regular updates from the team.