3D printing is the process of creating three-dimensional shapes from a computer controlled printer. Also known as Additive Manufacturing (AM), layers of raw material are gradually built up to create whole, solid objects.
Although it looks cool, you may see 3D printing as a something of a novelty that has minimal uses in everyday life. However, as the technology has become more accessible, a whole world of possibilities have opened up.
3D printing is used by manufacturers to create component parts with ease and in the design world, it has made prototyping a whole range of objects fast and effective. In terms of printed graphics, 3D printing allows us to create more ambitious three dimensional signage, lettering and visuals that are completely bespoke.
We currently have a Wasp and an XYZ 3D printer in our printing studio. They enable us to create shapes and lettering from a range of materials, including plastics, ceramic, and even gold, silver and titanium.
Compared to traditional cut-vinyl embossed lettering, 3D printed lettering looks solid, modern and of a much more hardwearing quality.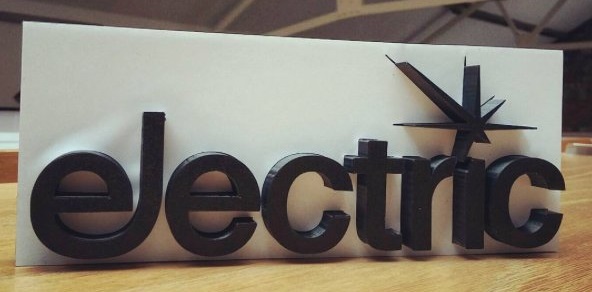 Our 3D printer also enables us to create completely unique whole shapes, exactly to size. Where previously, they would have been formed several component parts, 3D printing offers a faster way of creating a more durable end product.
Take a look at these shapes we created for Leeds College of Building. Each shape has been printed precisely from the students' designs and has come together to form an interactive, wall-mounted display piece.
Because of the precision guaranteed by printing the components in 3D, there is greater confidence that the finished product will come together exactly right. This not only shaves time off the production process, but it also prevents the wastage of any valuable raw materials in the form of offcuts.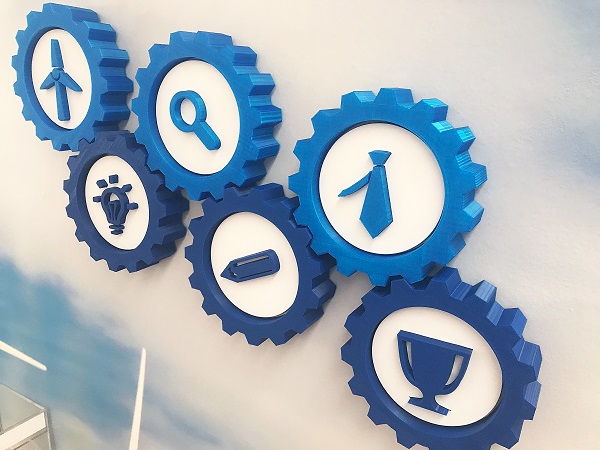 The real beauty of 3D printing is that we don't yet know all of the weird and wonderful things it is capable of producing. From one small machine, we can form whole objects that come together to create larger objects with a whole range of purposes, and this potential is what's really exciting.
Our specialists are currently growing our 3D printing capabilities in order to deliver bigger, more ambitious signage and 3D design projects. And as we learn more about its capabilities, we can share this insight with you. From lettering and 3D logos to interactive displays, we're excited to see what our next 3D printing challenge will be!
Got an idea you'd like to explore? Get in touch with our team today and we'll help you get started.